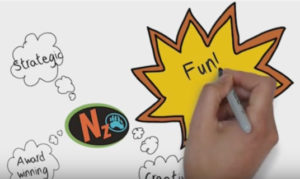 Whiteboard videos are popular because they allow businesses to connect with their clients in a fun and personal way. These fast paced videos bring ideas to life, which is important when marketing services instead of physical goods. Whiteboard videos can be used to illustrate concepts, tell a story, boost your brand and more!
So what are Whiteboard Videos?
Whiteboard animation involves drawing on a whiteboard while recording, then piecing the frames together through post production time lapse. The effect allows the viewer to feel as if someone was drawing a concept out for them personally. It also gives free play to the creator to incorporate humor and creativity.
Okay! But How?
They are fairly easy to make and you can find many online tutorials that will show you how. Or if you are in a hurry, hire a production service to make them for you, the best option from a time efficiency standpoint. The possibilities are endless!
Consider these benefits:
 Whiteboard videos set you apart from competition
 Hand made style makes your brand likable
 Visitor attention will be drawn to the video instead of lengthy text
 Can be used for personal use as well, like memorializing family history
 Studies show people are attracted to handwritten marketing materials
Watch the promotional whiteboard video we created for NuZoo Media to see how we marketed our brand! We have experience producing whiteboard videos and more. Contact us today for more information on how to kick start your video projects today!