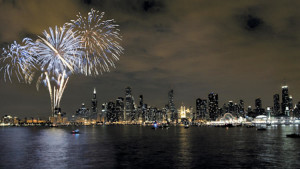 What to do, what to do… it's almost New Year's Eve in Chicago and I bet some people are still searching for something to do. I've compiled a short list for you, beginning with Navy Pier, a favorite for many!
New Year's Eve in Chicago
Celebrate New Year's Eve in Chicago at Navy Pier! From Chicago's only lakefront midnight fireworks show to the biggest and best parties in the city in the historic Aon Grand Ballroom and Crystal Gardens as well as dining cruises featuring entertainment and champagne toasts, you want to ring in the New Year at Navy Pier! The Navy Pier fireworks display on New Year's Eve will take place at approximately 12:00 am. Click here for all the events.
A multi-event party culminating with the "rising star" at the stroke of midnight. The six-pointed Chicago star differs from other notable New Year's Eve symbols in that the star will rise over the festivities of Chi-Town Rising on the side of the Hyatt Regency in downtown Chicago as midnight approaches. All of the others drop. The other noteworthy difference in the City of Big Shoulders is that Chicago's star is much, much larger than any of its symbolic competition. Click here to compare the size of our star to New York's ball, Atlanta's peach and several  other notable New Year symbols.
LEGOLAND, a Bubble Bash,  and the Zoo are all options if you've got kids.
Spend New Year's Eve morning celebrating at the Bubble Bash, an out-of-this-world event at the DuPage Children's Museum.
Ring in the New Year Lego-style, with a kid-friendly celebration and balloon drops taking place at noon, 3 and 6pm at the LEGOLAND Discovery Center.
Celebrate Zoo Year's Eve at Brookfield Zoo, and rock in 2016 with a live DJ, party favors, make-your-own noisemakers and an early countdown.
However you celebrate New Year's in Chicago, have a fun night! We'll see you back here in 2016!